Thank you for visiting our Testimonials page!
People call and email us DAILY to tell us about how thrilled they are with the positive results they've seen in their pets after starting DCA.  We will be updating this page regularly so please come back to see more great news from customers.
October 6, 2014
Hi, I have bought your product for my cat who has a nasal adenocarcinoma via Amazon.com. Blacky is nearly 13 y.o., he was diagnosed last May. His tumor is (was) huge. I gave him DCA for 2 weeks at 9.09 mg per pound of weight.. The DCA makes wonders for him: his nostrils were 100% obstructed by the tumor and he was breathing by his mouth. He was wheezing all the time. This was gone after 6 days of treatment. He hadn't eaten by himself since the end of May 2014. I had to syringe find him 3-4 times a day. He has resumed eating on his own for 5 days now. As I don't know the bioavailability of DCA in cats, I opted to do not give him DCA the weekends. The tumor continued to shrink without DCA over the weekend. I resumed the treatment this morning.

L.C.
September 12, 2014
I can't possibly express my gratitude. I learned on Google about this product DCA. Do you know that you saved my mom's life.
I'm on the second bottle. I hope they don't discontinue this. I probably should by more for the future.

My mom was given 3-4 months to live. Stage 4 ovarian cancer, 4 chemos in the last 5 yrs. We thought it's the last one, chemo simply destroyed her. I told her to decline and start taking DCA with vitamin B-1 and B-17, just like people have suggested online.. I knew that cancer is cancer, dogs or people , doesn't matter. but to actually see it working!  That's the ultimate. 

Guys, don't stop , keep selling it. I think I've saved few more lives myself.. I told few people about it, it really can save them when they think it's end of the rope. Keep up a good work.

Originally an Amazon customer, now purchasing directly from us.
September 1, 2014
I'm just a guy who's been using this for last 6 months.  It really is a miracle.  Nothing else on the market so far, and for such cheap price.  I could not believe it.  Vet will charge you thousands.  It's the easy solution to almost incurable disease.  Cancer is a death sentence to most, who do not know about existence of DCA.

A happy customer
August 17, 2014
.. I tried and it works.. My mom has stage 4 and even if we don't have much time together, still, DCA bought us at least a year's time.  She is still with us.  Doctors gave me grim news, maybe 3-4 months at the most, back in Oct 2013.  If we didn't try DCA.. she would not be here today.  Her Oncologists are shocked.

An Amazon Customer
August 17, 2014
I did not believe it at first, but this stuff really works.  I'm already on 2nd bottle.  It lasts longer than I thought.  1 bottle is good for at least 3-4 months.  Wonder drug.  I never knew something like this exists.  Thank you seller.  You saved a life.

An Amazon Customer
July 20, 2014
A very good product.. this product is a miracle.

It is working.  It saved a life !!!  I administered for 3 months and doctor showed me a report where almost 95% of cancer was gone, and he was surprised himself.  I did not tell him what I was using.  Let him take all the credit.  But inside, I knew, it was DCA.  It really works.  Somehow it reverses the process, the cancer cells are tricked into committing" suicide " so to speak.  Try it, you have nothing to lose.

An Amazon Customer (A.M.)
September 29, 2013
I am happy to confirm that my husband who was diagnosed a adeno cancer on the lung tumor  Stage IV with 7,3 cm diameter and with a metastasis on the other lung this year April 2013 has been submitted to medical treatment of Chemo therapy alongside with stereotactic radiotherapy and after 2 chemo treatments at same time as DCA on a daily basis the tumor reduced almost 50% and after 4 months of extra 4 treatments of chemo plus 7 radio he was considered cured after 6 months in September 2013.

I believe that the fact DCA was given at same time has helped for this fantastic and quick result and I wish to share with you our happiness. Thank you.

Kind regards, LB from Portugal (emailed)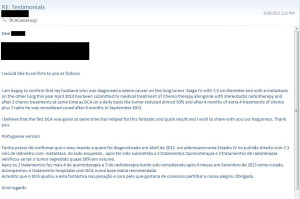 September 21, 2013
This is an effective, cheap, virtually side-effect free cancer treatment. Some would call it a cure. This has saved my father from terminal brain cancer and another person close to me from throat cancer. The fact that this exists and is basically unknown is unthinkable.

An Amazon Customer (M.C)

July 13, 2013
This product is magic in reversing the persistent advance of Carsonoma skin cancer.  I refused to let the surgeons continue to cut out the cancer growth which was going to disfigure my face.  This product had beginning results within 5 days and continues to destroy only the cancerous cells.

An Amazon Customer (D.E.R)

May 3, 2013
Just to let you know, that after seeing Lady's tumor growth to the size of a melon, red, and hard, just in the last 5 days, every day the tumor has shown decrease, and right now is the size of a big lemon.. It is working!

I will keep you updated in the progress… what a miracle you are carrying!

Many, many thanks,

A. from Florida, USA
June 7, 2012
Have just received my second order of this product.  A PETscan taken 6 weeks after beginning use shows that a previously rapidly growing nodule has become arrested.  Confidence is such that my Pulmonologist and I feel comfortable in holding off a further scan and office visit until near the end of the year.  If such scan shows continued improvement, would then upgrade my rating to a 5-star.  Has already put off surgery for which I was being vetted.  Dosage of these orders is just about right for my weight (150 lbs)  and will begin researching the end game when the time comes.  Have no ill side-effects.  Needless to say, my Oncologist is highly interested.

An Amazon Customer (C.)

June 9, 2012
I am on my second bottle of DCA.  I have seen a reduction in the size of the tumours on my lip.. I am confident that this product will kill all the cancer cells.  Unlike those with internal cancers, because mine is very visible, it is easy to see the progress I am making.  The seller of the product has been very helpful and answers any questions I have with in hours of my sending an email.  The order is shipped and delivered within less than a week from placing the order.

An Amazon Customer (H.)

Disclaimer
All testimonials listed here are REAL and have been provided by customers with no compensation offered or given in exchange for their testimonials.  Whenever possible we include a screen capture of the actual testimonial so you can see the comments are real.  If you have any questions or want to share your story, please feel free to contact us.