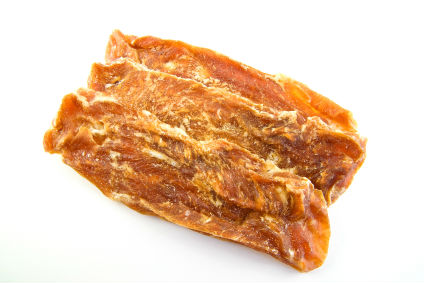 Mourning pet owners are fighting back with major retailers over tainted jerky treats.
Rita Desollar of Pekin, IL has become a one woman advocate concerning the potential dangers of chicken jerky animal treats from China, after the death of her beloved dog Heidi.  The passing of the eight year old German shepherd came just five days after she was given the Waggin' Train treats last May.  After finding no reason for the illness she began investigating the web for other such cases.
She found many telling of cautions by the government of potential association between sickness and death of hundreds of US dogs and the consumption of Chinese manufactured jerky treats. She says she did not see a warning or have an inkling of a potential problem until it was too late. The makers of the product have given no recalls for the treats and the FDA after rigorous investigation states no toxins can be found warranting pulling the products from the shelves.
The extremely angered former paralegal decided she must take matters into her own hands. She stated "They're leaving a product on the shelf that can potentially harm a dog. There was no warning. There was nothing to tell me this was under investigation. They just left it out there."
She has since started a Change.org petition for retailers to pull the treats from the shelves of their own accord. To date is has over 60,000 signatures. She has put fliers on vehicles and had magnets made with "Stop the Cycle of Death," as well as business cards with "Beware chicken Duck and Sweet Potato JERKY TREATS are not safe!" She leaves cards by the products wherever she finds them. Not only her but many other distraught pet owners after no action by retailers or the government to do anything have begun warning of the dangers.
Even after reports of 2,200 or more illnesses and deaths of over 300 dogs and 1 cat since 2007, the FDA, manufacturers and retailers claim there is no connection of pet harm from the treats.
FDA officials have stated that this investigation is a very intricate and tests have not found a large amount of poisons in the treats and of the millions of animals consuming the treats the number of complaint is too small. It seems that this may be an underlying issue with the animal.
Nestle Purina PetCare Co., who sells the brands in question, has said after repeated testing there has been no issue found with the product and is safe to give to animals as stated on the package of Waggin' Train and Canyon Creek treats.
Other pet owners, such as Susan Nichols from Grand Blanc, Mich. have started putting up warnings of their own. Her 11 year old Dachshund-Cocker spaniel mix, Lucy passed last year from kidney failure believed to be caused by the treats. Jeff Zolman was so upset by the death of his pet Bandit that he has put up posters of his dogs picture at the store he bought the treats from. Zolman says "The manager said he couldn't post anything up unless it came from corporate, he says I understand where he's coming from, but I wanted to get it out there for other people."
Regardless of consumer zeal, stores across the US have ignored calls to take the treats from the shelves without further proof. "We're really sticking with the science at this point," said Craig Wilson, vice president of food safety and quality assurance at Costco, just one of the several retailers addressed in the petition by Desollar.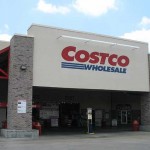 Costco is known for its vigilant food safety monitoring system, and has done repeated tests on the treats which have shown no toxins that can cause illness in an animal including kidney failure and Fanconi syndrome. (Fanconi syndrome is a collection of abnormalities arising from the defective transport of water, sodium, potassium, glucose, phosphate, bicarbonate, and amino acids from the kidneys; impaired tubular reabsorption, the process by which solutes and water are removed from the tubular fluid and transported into the blood, causes excessive urinary excretion of these solutes. Per PetMD) "I don't think people understand how hard Costco looks at this," says Craig Wilson. "If there's a hole in this boat, I'd like to be the guy who finds it."
Of the other retailers named such as Walmart, Sam's club, Safeway, and Walgreens, Target has declined comment stating that there are current lawsuits, while Kroger and Walgreens abide by guidance from the FDA. Walmart has also state that apart from the FDA, standards are also required by the Global Food Safety Initiative. Shoppers have been forward with questions to the manufacturer, the FDA or management.
The efforts of the pet owners can go a long way to make change. "Consumer pressure can be instrumental in getting these treats out of the marketplace," said Tony Corbo lobbyist for the Food & Water Watch group. "The easiest way to get them out of commerce is for FDA to issue an import alert against these products."
The FDA has an ongoing investigation. Inspections of the plants In China have given beneficial insight that has caused an increase in surveillance. Chinese plants that irradiate the treats will be investigated by the FDA to find out if that process is linked to the illness and deaths. Glycerin used in the manufacturing process will also be examined.
Although Desollar is happy about the further investigations she is still doing what she can in the stores that are still selling the treats. "These treats killed my dog."