Unlike some companies, our DCA (Sodium Dichloroacetate) is more than 99% pure, made using a sophisticated synthesis process with no organic solvents used during the production process.
This is pure DCA and does not contain any of the following:
No organic solvents
No acetone
No phenols
No toluene
No fillers
We've heard the horror stories from customers that have purchased DCA (Sodium Dichloroacetate) from other companies.  Some companies have stolen their money, some sent fake or impure products.. it's disgusting and a disgrace to the industry.
We choose our suppliers very carefully so you always get the best possible product from us, equal to that of Medicor Cancer Centers.
What makes us different?
We will ship to any country in the world.
We're only a telephone call away.  Unlike most other companies, we're more than happy to spend time with you on the phone and answer your questions.  If we can't answer the phone, leave a message and we will call you back promptly.
We will answer your emails.  Simply fill out the Contact Us form and we will respond to you quickly and professionally.
You and your pet matter to us.  All of us at PetDCA have pets, and most have felt the loss of one in the past to cancer.
Additional Information
DCA Quality
Product name: Sodium DichloroAcetate (DCA)
Catalog purity: 99%
Molecular formula: Cl2CHCOONa
Molecular mass: 150,92 g/mol
| | | | |
| --- | --- | --- | --- |
| No. | Analysis | Specification | Results |
| 1 | Main component purity | min. 99% (T/Cl) (52%) | 99,5% |
| 2 | Chlorides (as NaCl) | max. 0,5% | <0,04% |
| 3 | Water | max. 1% | consistent |
| 4 | Appearance | white powder | consistent |
We are continuously restocking our supplies with DCA and therefore can not post the newest certificate.  The certificate shown below is from DCA when we first created this website.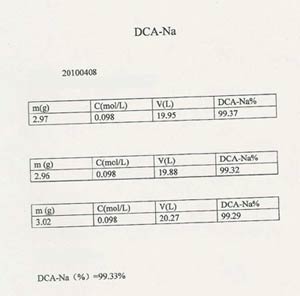 DCA is received at our bottling facility, vacuum packed and sealed in a thick mylar bag which does not allow air or light to penetrate it.  As seen above, the purity is a minimum of 99% pure.